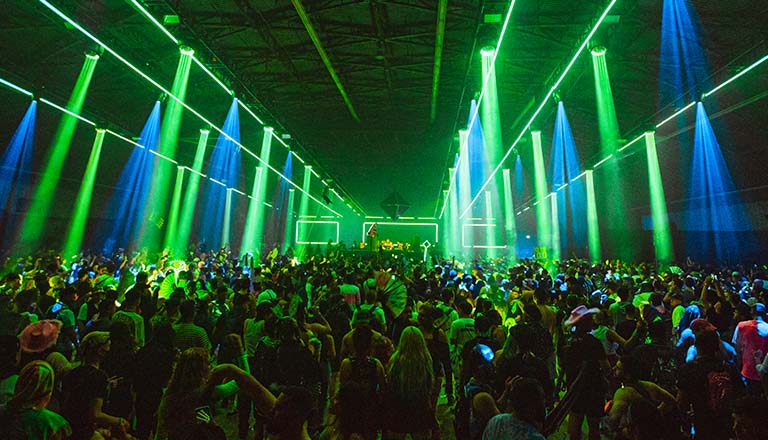 FAQ
Address:
Hemkade 18, 1506 PR, Zaanstad
Opening hours:
Doors open: 12h CET
Start show: 12h CET
End show: 23h CET
Entrance
Make sure to bring your ID and your ticket. The minimum age for the event is 18+. We cannot grant access to visitors younger than 18. Therefore, it is important to take legal identification with you for security to check your age. You can only scan your ticket through your phone.
Handbags
As a standard procedure, all visitors and crew are thoroughly inspected. Visitors are not allowed to bring luggage and/or backpacks to the event. You are allowed to bring handbags to the event with a maximum size of A4 and 10 cm thickness. The safety of our visitors is always a high priority. Regarding recent developments worldwide, we are extra cautious with all procedures. We ask for your understanding in this.
Lockers & Payment Methods
Lockers
Lockers are available at the venue. Lockers can be only bought cashless (by card). You can store your belongings in the lockers on location. Please check the floorplan below for the exact locker location.
To make sure you don't miss out, we recommend you to secure your locker in advance. Please note, lockers bought in advance are cheaper than at the festival itself
Please find the online prices below:
M Locker €8 (ex. fee)
L Locker €12 (ex. fee)
Grab your e-locker before the event via this link.
When buying at the festival, the prices will be:
Payment
LiveNOW Festival is cashless. Please note that there won't be any ATM machines at the festival terrain. You can pay by credit or debitcard. You can pay with Maestro, Vpay, Mastercard and VISA.
Timetable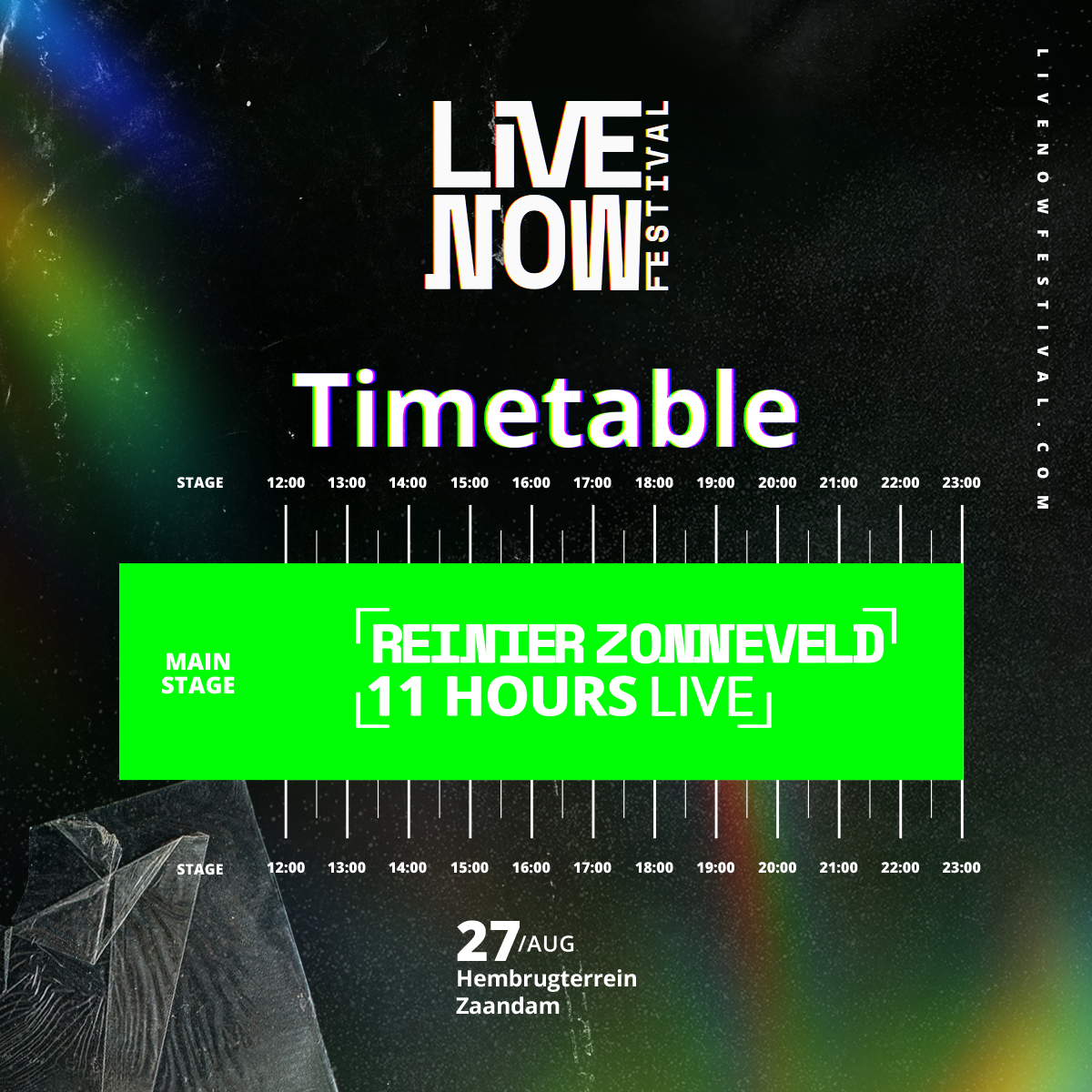 How to get there?
Public Transport (NS Dutch Railway) + Shuttle Bus
The best and easiest way to get to the festival is to take the train in combination with the shuttle bus. We encourage everyone to choose environmentally friendly means of transportation. Plan your trip from anywhere in the Netherlands to NS Station Zaandam by using this link. After you reached NS station Zaandam, we strongly recommend you use the shuttle bus to get to the festival and the other way around. Check the section 'shuttles' for more information.
Parking + Shuttle Bus
There is no parking space around the venue. We strongly advise to visit the venue with public transport. If you want to park the car, we advise you to park with Q park. Via this link you can purchase your parking ticket. Please note, after you parked your car, we advise you to take the shuttle bus to the festival site. The Q-park garage is located next to the shuttle bus terminal (NS Station Zaandam). Check the section 'shuttles' for more information. Please note the parking ticket is not a valid shuttle bus ticket, buy your shuttle bus ticket here.
Shuttles (Station Zaandam – Hemburgterrein)
The best way to get to the festival site is to take the Shuttle bus from NS Station Zaandam. Hop on the shuttle bus at NS Station Zaandam and you'll be dropped off right in front of the entrance.
Timings: Busses will be driving from 12:00 till 00:00 hours
Boarding location (to the festival): NS Station Zaandam – Bus terminal D
Boarding location (back to NS Station Zaandam) – right next to the festival entrance. Please, follow the signs "Shuttle Buses."
Price
Tickets from Station Zaandam to the venue are €7 per person and can be bought online in the ticket shop. Be quick because the price of our shuttle tickets will increase on the day itself and on location to €8 per person. Purchase via this link.
Bikes
Travelling by bike from Amsterdam. The easiest way is to use the Hempont to Zaandam.
The ferry operates every 20 min and 24/7. See timings below:
– From Hempontplein to Zaandam at :00, :20, :40
– From Zaandam to Hempontplein at :10, :30, :50
Follow the signs to the designated bike parking area on 'verdedigingspark'
Taxis/Uber 
Taxis can be found at the Cornelis Ouwejanstraat in Zaandam.
Extra Information
Earplugs
A party without music is like a carbonated drink without fizz. But going deaf or having ringing in your ears that simply won't go away, is a very sad memento of a good party. So go easy on your ears and be sure to wear ear plugs if the sound level exceeds 80 dB(A). Earplugs can be bought at the merchandise- and info stand.
Celebrate Safe
During LiveNOW Festival we celebrate safely. When you (or your friend) are not feeling well, please visit our first aid team. The first aid team is your friend and are here to help you without judgement.
Zero Tolerance
We have a zero tolerance policy and so discourage you to bring (soft)drugs to the event. If one of these is detected during visitation, you will be denied access to the event. Public use of drugs at the event also leads to removal. Please respect our regulations.
Lost & Found
Found items can be brought to the merchandise and info stand, which can be found in the entrance hall. Have you lost something? During event you can check the merchandise- and info stand.
Weather
The festival will take place rain or shine. Please keep up to date on weather reports and plan your attire and preparations accordingly.
Food & Drinks
Food-trucks are available and plenty of bars as well, all over the venue.
Semi-Professional Photo Equipment and Selfie Sticks
Bringing professional or semi-professional equipment to this event is strictly prohibited, unless agreed upon otherwise by means of an assigned press accreditation. Selfie sticks longer than 1 meter are prohibited as well. Normal digital or other cameras and go-pro cameras are permitted.
Pickpocketing
Please be aware of your valuable belongings and keep an eye out for pickpockets.
Questions
Still have some questions? E-mail us at info@livenowfestival.nl and we'll get back to you ASAP!
Ticket FAQ
Is LiveNOW festival sold out?

Yes, there are still some tickets available for LiveNOW festival on Ticketswap.
Which tickets are available, and can I upgrade my ticket?

Regular tickets only, for you, for everyone. Everybody on the same dance floor.
Do I need to personalize my tickets?

Yes, personalising your tickets for LiveNOW Festival is mandatory. You will receive an email from Paylogic which contains a link that gives you access to the personalisation page. If you haven't personalised your tickets by then, you won't have access to the event.
When do I receive my tickets?

You will receive the tickets right after you've purchased the tickets via our official ticket shop.
I didn't receive the confirmation mail, what can I do?

Always be sure to check your spam folder first. If you still can't find your confirmation mail, don't worry! You can use the following online tool from our ticketing partner Paylogic. Fill in your email address you have bought your tickets with. You will receive the confirmation email once again.

If the mail doesn't arrive for some reason, try to log in to your account via this link.
Can I change the name on the ticket?

You are able to change the name on a ticket by contacting our partner Paylogic.
I won't be able to go anymore, how can I sell my ticket?

That is too bad because you don't want to miss this! However, you are able to offer your tickets for sale via our partner Ticketswap.